Share this post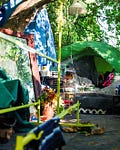 'Hurt, Confused, Upset' - Residents of East Wheeling Camp Respond to Looming Eviction
thehudsoneditorial.com
4
Share this post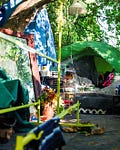 'Hurt, Confused, Upset' - Residents of East Wheeling Camp Respond to Looming Eviction
thehudsoneditorial.com
'Hurt, Confused, Upset' - Residents of East Wheeling Camp Respond to Looming Eviction
Hear from four people experiencing homelessness in Wheeling as they talk about their reaction to a looming eviction, proposed camping ban, and what questions they have for city leaders.
For a year now, people experiencing homelessness in Wheeling have been directed by city employees to the East Wheeling hillside to seek shelter. They were shocked on September 29 when those same city employees came, with four police officers, to serve them an eviction notice
Now, instead of working on their health, wellness, or financial situations, dozens of residents are scrambling to figure out what comes next. They have no where to go, and the Winter Freeze shelter doesn't open until December 15th. Even if they sought out a shelter bed, there are not enough beds for even half the people experiencing homelessness in Wheeling.
Doug, Natasha, Misty, and Aubrey share their reaction to the eviction and potential urban camping ban. Kate Marshall of the House of Hagar speaks about the burden for service providers trying to support vulnerable people during this time.
A companion article and transcript of this podcast will be posted at a later date. Due to the urgency of this story, the podcast is being posted now.
To read a companion article for this project, click here.
The Hudson Household Editorial
I hope this will become a series of conversations with elected officials, community leaders, and normal Appalachian citizens, about issues impacting the City of Wheeling, the state of West Virginia, and the region as a whole.
Listen on
Substack App
Apple Podcasts
RSS Feed